Published by admin on 08 Oct 2009
Fool a Tom
It takes a determined bowhunter and the right method to beat
the sharp eyes of a wild turkey.
By John Trout, Jr.
http://www.bowandarrowhunting.com/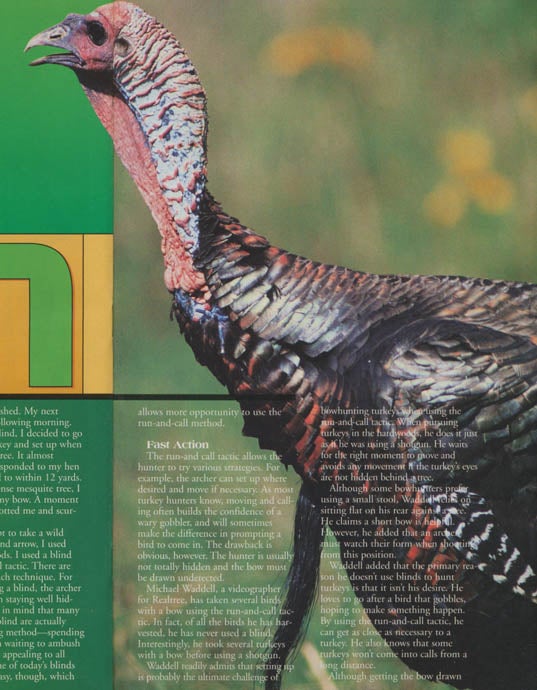 Like many avid archers, I had always wanted to take a wild turkey with a bow. My first attempt came a few years ago on a ranch in Texas where there were plenty of gobblers. I had hunted with a shotgun since the 19070s and had taken several birds, but now it seemed the large quantity of birds on the Texas ranch would offer room for error. If I goofed up as assumed, I would probably be able to locate another turkey and try again. I quickly discovered my prophecy would come true.
  My first failure came in the late afternoon after I set up near a waterhole and placed a netting blind around me. Only 30 minutes after setting up, a turkey answered my call. Eventually, three gobblers showed up and made their way to within 30 yards of the blind. I drew the bowstring and watched with enthusiasm as I released the arrow. Ir sailed inches under the gobbler's breast. Needless to say, the turkeys vanished. My next attempt came the following morning. Instead of using a blind, I decided to go after a gobbling turkey and set up when necessary against a tree. It almost worked. The bird responded to my hen talk and approached to within 12 yards. Hidden behind a dense mesquite tree, I attempted to draw my bow. A moment later, the gobbler spotted me and scurried away. 
         In my first attempt to take a wild turkey with a bow and arrow, I used both types of methods. I used a blind and the run-and-call tactic. There are pros and cons for each technique. For instance, when using a blind, the archer can normally rely on staying well hidden. However, keep in mind that many who hunt out of a blind are actually using a deer hunting method-spending time in one location waiting to ambush a turkey. This is not appealing to all turkey hunters. Some of today's blinds do set up fast and easy, though, which allows more opportunity to use the run-and-call method.
 Fast Action
  The run-and call tactic allows the hunter to try various strategies. For example, the archer can set up where desired and move if necessary. As most turkey hunters know, moving and calling often builds the confidence of a wary gobbler, and will sometimes make the difference in prompting a bird to come in. The drawback is obvious, however. The hunter is usually not totally hidden and the bow must be drawn undetected. 
            Michael Waddell, a videographer for Realtree, has taken several birds with a bow using the run-and-call tactic. In fact, of all the birds he has harvested, he has never used a blind. Interestingly, he took several turkeys with a bow before using a shotgun.
            Waddell readily admits that setting up is probably the ultimate challenge of bowhunting turkeys when using the run-and-call tactic. When pursuing turkeys in the hardwoods, he does it just as if he was using a shotgun. He waits for the right movement if the turkey's eyes are not hidden behind a tree.           
            Although some bowhunters prefer using a small stool, Waddell relies on sitting flat on his rear against a tree. He claims a short bow is helpful. However, he added that an archer must watch their form when shooting from this position.                     
            Waddell added that the primary reason he doesn't use blinds to hunt turkeys is that it isn't his desire. He loves to go after a bird that gobbles, hoping to make something happen. By using the run-and-call tactic, he can get as close as necessary to a turkey. He also knows that some turkeys won't come into calls from a long distance. 
 Although getting the bow drawn can be a problem for run-and-call hunters, Waddell said that hitting the turkey has often been his biggest problem. He believes that today's camo patterns and gear have made it easier for hunters to draw their bow without being seen. But they must still be able to hit a small target. He recalls a few gobblers that have come to within 30 to 40 yards. These are usually dead birds for the shotgunner, but for the archer they are difficult targets.
            Preparing for the Shot
            After setting up on a turkey, Waddell will sometimes use a rangefinder before the turkey comes in.  Once the bird shows up, he knows precisely the range before getting a shooting opportunity.  Nonetheless, he believes that archers should practice out to 30 yards.  Getting a bird in closer is extremely hard, although Waddell's closest kill came at only 10 steps.
            Decoys are another option.  Decoys are not always sure bets, but they fool some gobblers.  Their effectiveness usually depends upon the nature of the turkey and how often decoys are used in a given area.  Waddell claims that the advantage is placing the decoys close enough to make certain a gobbler will come into your effective shooting range and having the patience to wait to shoot until the turkey is there.
            "If they work, decoys allow you to call your shot.  If you're hoping for a 15- to 20-yard shot, place your decoys only that far away.  On a few occasions, I've set up decoys less than 10 yards away,"  Waddell explained.
            Another advantage is that decoys will sometimes make a gobbler strut.  If the gobbler turns, the tail feathers of the strutting bird will shield the eyes of the turkey and allow the archer to draw his bow.
My good friend Tim Hilsmeyer recently took his first Eastern gobbler with his bow.  He shot the turkey at 16 yards from a homemade blind nestled along the fringe of an opening where a few birds passed through daily.  Nevertheless, the turkey did not come easy.  During the first two days in the blind, he had to pass shots because birds were out of range or were in dense cover.  Finally, a gobbler stepped into a good opening and offered the perfect shot.
            Before his bowkill, Hilsmeyer had taken several turkeys with a shotgun.  His first attempt with his bow occurred a few years ago.  Using the run-and-call method, he moved in close to a gobbling bird, set up and called the turkey to within 14yards.  It all went perfectly until the gobbler spotted him drawing his bow.  Eager and unwilling to give up on the idea of killing a turkey with a bow, Hilsmeyer then decided to try the blind.  However, don't believe for a moment that the bird came easy.        
            Hilsmeyer had done his homework before opening day arrived.  Many of those who hunt using a blind make certain that turkeys are using the area.  After all, if you are going to dedicate your hunting to using a blind and waiting for turkeys to show up, you must be somewhat sure that your time won't be wasted.           
            Hilsmeyer claims the particular area he found was second to nothing.  He called the area a transition zone.  There were hardwoods, a pine thicket where a few turkeys roosted, and a small lake on one side that seemed to funnel the birds into an open area near the blind.  Although he spent several days listening to gobbles near the opening, Hilsmeyer also discovered numerous tracks.
            Many archers who choose to hunt from a blind select agricultural fields, pastures or other openings that attract turkeys in the morning after they leave the roost.  Blinds are usually set up along the fringes where a background exists.  Most successful bowhunters claim that turkeys pay little or no attention to the blind if they are set up by cover and remain somewhat hidden.
            Although Hilsmeyer spent hours constructing a home-made blind, he is now considering a commercial blind that will work as well.  He recommends a blind that is large enough to allow you to sit on a stool and shoot, and one that provides comfort and maneuverability.
            Hilsmeyer suggests using turkey calls occasionally to lure birds in close.  He says that it's common for turkeys to pass by the blind out of bow range.  A call or two, however, might be all it takes to lure the bird into shooting range.  He also uses decoys, but admits that many birds become shy after seeing them for a day or two.  He places the decoys only 15 yards from the blind.
  Perseverance is the final factor of using a blind in an area where you expect turkeys to be.  Hunters must force themselves to stay put and not to go to a gobbling turkey.  In fact, this is the reason some hunters prefer not to use the blind method.  Some archers would rather pursue a gobbling turkey and abandon a blind simply because they don't like the idea of sitting tight.  Hilsmeyer says he spent several hours in the blind each day until he killed the turkey early in the morning on the third day.  However, he added that it took every bit of patience he could muster up to stay in the blind and listen to turkeys gobbling in the area.
            Perhaps the last thing I should mention is your decision to try to kill a turkey with a bow.  If you've done it faithfully with a shotgun previously, you already know it's going to get tougher with a bow.  Once you find out how difficult it is, you might think about hanging the bow up until deer season and sticking with the shotgun.  This is not to discourage you from bowhunting turkeys, but Hilsmeyer said that if an archer really wants to kill a turkey with a bow, he should never try it for only a day or two.
"You just tell yourself, 'I'm going to hunt the whole season with a bow…I can do this and it's going to work',: Hilsmeyer said.  There are far more turkey hunting tactics that I could have discussed in this article, but I'm sure you get the point.  First you make up your mind that you want to challenge a wild turkey with a bow and arrow.  Once you decide to do it, you choose the method that will get the job done.  After that, it boils down to beating the eyes of a gobbler up close.