Published by archerchick on 05 Dec 2011
Bowhunting World Xtreme 2004
James E Churchill: Bowhunting's Last Modern Day Mountain Man – By Mark Melotik
Most bowhunters I
know, myself included, are far from what
you would call avid historians, but there
are exceptions—one of them being an inexplicable attraction
for many of us, to the 1972 Robert Redford movie Jeremiah Jolmson. The
main character may be fictitious, but
was plausible enough that he just might
have existed. When he wasn't trapping
beaver, bobcats and marten for a living or
dodging surprise Indian attacks in the post
Civil War mid-19th Century, good ol`
Jeremiah was otherwise living life to its
fullest, chasing elk, deer and moose in the
pristine, unspoiled Rocky Mountain West.
Many avid bowhunters I know seem
to form a kindred bond after viewing
Johnson's adventures. I found this exact,
well-used videotape atop a VCR owned
by an Ontario black bear outfitter some
years ago, and later found the film was
also the favorite of a whitetail outfitter
I visited the next fall down in Illinois.
Over the past several years I've been in
the company of many others who have
shamelessly confessed the same.
Maybe it's my fascination with the
savagely independent outdoor lifestyle
of the vintage western mountain men
that first drew me to the writings of Wisconsin's
James E. Churchill—someone I
came to know through his adventure
laden stories in magazines like Fur Fish
Game and Outdoor Life, and someone I
considered a true modern day mountain
man. Indeed, Redford's deft portrayal may
have set the bar, but Churchill, to me,
seemed every bit as skilled and fearless. Of
course, it didn't hurt that he lived in my
home state and also loved to bowhunt.
I was a sophomore in a Milwaukee
area high school back in 1987, when the
May issue of Outdoor Life arrived, holding
the story "We Took To The Woods." In it,
author Churchill described how he had
suddenly up and quit his citified desk job
based in the all»too·populated southeast
corner of Wisconsin, From there he led his
wife, Joan, son Jim Jr., and daughter Jolain
to a true "Live-off-the-land" lifestyle in the
far northeast comer of the state——a lifestyle
that featured plenty of fishing, trapping.
and big woods bowhunting. I didn't merely read the article, I devoured it.
Churchill's plan was to become a full
time freelance writes which he did, but fir?
there was a cabin to build—by hand—on
the family's newly acquired 40 acre parcel
located just west of the city of Florence. By
no mere coincidence, the Churchill spread
lay in the state's least-populated county.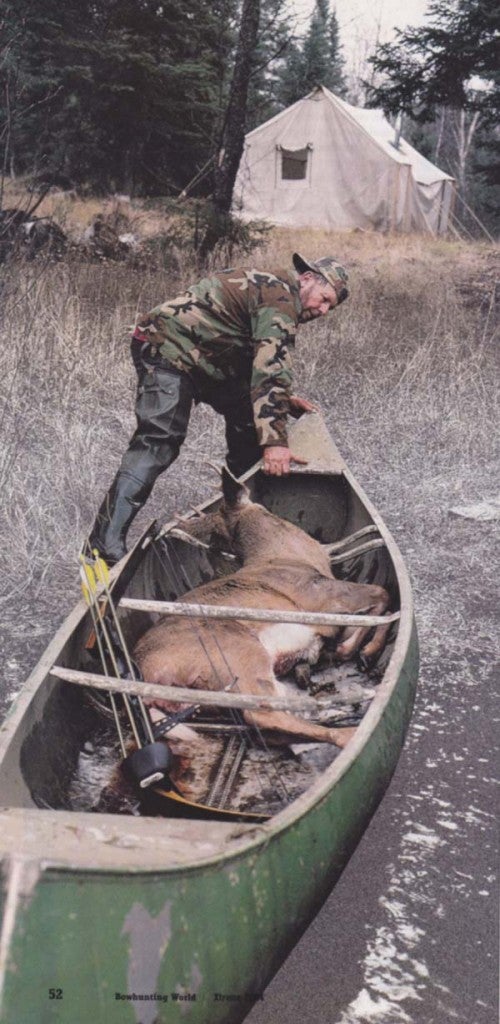 The Move Northward
To prepare for the move, the Churchills
had scrimped and saved to buy the land,
and set aside enough cash to make it
through that first rocky year—barely.
The unexpected high cost of installing
electricity and digging a well on the
property almost broke the family, but the
lack of a house payment and the family's ingenuity got them by. Churchill
and his son Jim Jr. who then went by
the apt nickname "Trapper"—kept
themselves busy stocking the family
larder with more than 1OO snowshoe
hares that first year. There were also
plenty of sweet»tasting brook trout in
area lakes and streams, as well as meaty
northern pike, and plump bluegills.
It was very near the quaint A·frame
cabin, during that first fall, where Churchill
would arrow his best-ever whitetail buck,
a true northwoods brute sporting nine
thick tines and a burly body that dressed
nearly 2OO pounds. James Churchill would
bag a buck by bow virtually every year
since, according to Jim Jr, now 48, who still
lives in the Florence area with his own family.


That 1974 hunt is one of Jim Junior's
two favorite bowhunting memories of his
woods wise father.
"Dad was hunting this area where two
small marshes had a brush strip between
them, in the center of a stretch of big
hardwoods," Jim Jr. said. "the two marshes
had that little bottleneck between
them, and there was a faint deer trail
right down the middle of it. He knew
there was a big buck in there. On previ»
ous hunts, he saw the deer a couple of
times off in the distance, but one night,
everything was just right. In came the
I buck, and it ended up being a pretty fair
shot for a recurve—but it was a good
one. At the shot the deer took off running, and did a complete circle around the
treestand, and literally came right back to
where he had shot it. It died right there.
It was just a beauty, with a nice wide
spread. When I came home that night, we
went back out there and got it, and it was
just a neat time. It was the very first deer
we had gotten here, and it was a dandy.
I don't think he ever got a bigger one."
Jim Churchill was also very fond of
black bear hunting, which he did occasionally
with a bow in hand, but more typically with a muzzleloader, rifle, or camera.
His son Jim Jr. knew he didn't have
to travel far for outstanding bear hunting.
"In Wisconsin, you can't draw a bear tag every year, but dad was always
around them, I think he got his biggest kick taking photos of them. Most of
the bears he shot were on his 40 acres. I'm
sure there were some that were 400 plus
pounds. I've seen a lot of bear, and I know
how easy it is to overestimate them, but
some were well over 400 pounds. One
thing about bear, you might get a crack at
the big ones once a season, but they could
be pretty wary, Did dad like bear hunting
better than deer? That's a tough call,
because I would say that he'd rather take
photos as much. or more with bears—but
he'd rather hunt for deer,"


A Natural Woodsman
What made Jim Churchill a great
bowhunter? No one knew him better
than his son.
"He just had a lot of knowledge of the
woods," Jim Jr. said. "He was very
patient -very patient—always trying to
figure things out. His general knowledge
of the way deer acted in a certain area, he
had a really intuitive nature m to what was
a really good buck stand. In gun season, he
and I, we might only see three or four
deer the whole season, hut if you saw one,
chances are they would have horns—he
was just good at that. He'd never see a lot
of deer in a season, hut they typically had
horns on them. A lot of the time, he
would see a certain buck on a hunt, and
then would hunt for that deer exclusively.
But, he'd hunt smart. He didn't want
to spook it out of the area, so he'd hunt a
particular stand only if the wind was night."
Of course, Jim Churchill chronicled
his many adventures tor a variety of magazines, whose readers he took along every
step of the way. Churchills nonflashy,
matter of-fact writing style never seemed
to be with the tact that he was a pioneer
when it came to off beat tactics, such as
bear bowhunting with the use of canoes,
bowhunting snowshoe hares in winter,
and north country predator calling, all of
which were featured in Bowhunting World
in the early 1990s.
One of the best outdoor photos I've
ever seen was a shot Churchill had taken
with the help of a remote control camera.
The wily woodsman had located the
haunt of a particularly large bobcat, and
for the shot to work, he would need to call
the cat to a certain, predetermined spot.
With the use of a raven call—imitating
the regular, raucous crows the scavenging
birds make when dinner is located—the
plan came together like clockwork: in
the forefront of the frame you see the
back of the large, inquisitive tom, sitting
and facing Churchill, with weapon in
hand, in the background. He'd tripped the
remote camera at exactly the light instant,
and bagged the bobcat in the next.
What many didn't know about this
rugged "been-there, done-that" Journalist, is
that he actually worked with a partner,
receiving a good deal of typing and editing
help from his devoted, supportive wife, Joan.
"When we first moved here, for four
years, l always did Jim's typing—he would
type it up and l would edit it," said Joan
Churchill, who still lives in the same rustic A-frame cabin the family built in `74.
"We worked together most every day.
When computers came along, it was wonderful. We wrote every manuscript together,
and all of his 13 books. It was a really good life. I have no regrets moving up
here. I can go out on our porch and drink
my coffee, and it's so peaceful and quiet.
If you hear a car you know it's coming to
my house. I'll live here as long as I can."
Joan described her husband as an
energetic man who was always on the
go—looking for material for his next
feature article or book, always eager for
his next outdoor adventure.
"He was compelled to write," Joan
said. "He wouldn't have been able to
live in the city. l know he needed to be
in the wilds. For 13 years, we lived in
Racine [Wis]. He grew up in Tomah,
[Wis.], out in the country. He was a fish
out of water living down in the cities—
around too many people.
"The move was great for the kids.
Our son really enjoys it. Our daughter
Jolain—she left for awhile—and l wondered
if she'd ever be back here. But
today, here she is, living very near here,
with her own family in [Michigan's]
Upper Peninsula. So it was a great move
all the way around. Jim had 28 years of
doing what he wanted to do here. You
can't ask for more than that. We were
married 47 years, and for the past 28
years, we lived the way we wanted.
"Jim was a planner, he wasn't a rash person,"
Joan continued, describing their
unique back country lifestyle. "We didn't
have a mortgage, because we built the
house as we could. Not that there weren't
lean years; we didn't have an awful lot of
money, but we managed fine. We were
never snowed in, because we had a tractor
with a bucket, and then the town started
taking care of the road. But that first
winter, we burned wood, and we didn't
have the wood cut for the whole year, like
you should have, so you had to go out and
cut it every day—that was pretty tough.
The next summer, Him and Jim cut the
wood in the spring and let it dry out good,
and we had no problem after that."
Joan Churchill also remembers how
Jim's freelancing career paid off unexpectedly
one winter, during a stretch
when money was especially scarce.
"Christmas was coming, and we didn't have any extra money, so things
were looking pretty tight. Then, we
received a check from Fur~Fish·Game
just one week before Christmas—I'll
never forget that."
One Last Hunt
Interestingly, after nearly 30 straight
years of life as a full-time outdoor
writers span that included Jim
Churchill bagging a Wisconsin buck
virtually each and every fall—Jim
Junior's two favorite bowhunting memories
stem from his dad's very first hunt
at the family's Florence home——and
also, his father's very last.
"That last fall, he had seen this
deer—a nice 9~point—while driving
into a spot to do some grouse hunting,"
Jim Jr. recalled. "So he started scouting
around for it. In that first week of the
bow season, he was having trouble with
his shoulder. He was having trouble
pulling his bow back, but he went ahead
and hunted anyway—he would have
hunted with a spear if he had to.
"He was hunting from the ground at
the time, and sure enough, here that
buck came, down a trail, not 15 yards
away, but dad couldn't pull his bow back.
He had to let that buck walk on by.
"Then his shoulder got better, and
he stuck with hunting the trail that big
buck was running on. He saw it again in
October, about the middle of the
month, and then it was the last week [of
the early bow season in November].
The shoulder was feeling much better,
and he was again hunting on the
ground—he didn't use a treestand the
last few years, but he was a deadly shot
out to about 35 yards.
"The trail that buck was using traveled
through some short, thick balsams,
about 6 to 8 foot tall. Eventually he
heard something coming through there,
got a glimpse of it and sure enough, it
was that same buck. He ended up arrowing
it right behind the front shoulder. He
called me up to help track it. It went
about 150 yards, but you could see right
away it was dead in its tracks.
"Maybe that memory is so great
because it was his last buck with a bow,"
Jim Jr. remembered. "He died in 2002,
and that hunt was in November of 2001.
That buck was a dandy. Body wise, it
wasn't quite as big as that first~year buck,
but he hunted hard for it. l think it did
bother him that he couldn't get that bow
back during that first encounter. But
then, he would have been out there even
if he couldn't pull a bow back at all."
Avid big woods bowhunter and Journalist James E. Churchill passed away at
age 68, on May 29, 2002, at his back-
country Florence home. He was preparing to be treated for cancer when a
blood clot took him suddenly. That was
a blessing, according to his wife Joan—
she knew that her husbands energetic,
always~on-the-go lifestyle wouldn't have
meshed well with an extended hospital
stay or lengthy incapacitation.
l didn't know the man personally, but
I'd say Joan got it exactly right. When
you're a true Mountain Man—even one
of the modern»day variety—there are
always new trails to be blazed. Few ever did
it any better than James E. Churchill.  >>>—>
Archived By
www.Archerytalk.com
All Rights Reserved