Published by archerchick on 09 Feb 2011
Capricious Caribou ~By Jay Massey
An Alaskan Education On Stalking Whimsical Beasts
GROUPED TIGHTLY TOGETHER and moving as a
single animal, the small band of caribou bulls bolted for-
ward and sprinted across the rolling tundra for a quarter-
mile, only to pivot abruptly and trot back from whence
they came. leading this sea of antlers was an old, white-
necked fellow with a rack four feet high.
Watching their curious antics, Dick Hamilton and I
agreed they were displaying all the fickleness one comes to
associate with these magnificent, but seemingly stupid creatures.

That's where we made our first mistake. The caribou
may be many things, but he isn't stupid. After numerous
long and exhausting stalks, we were beginning to get the
picture; What appears to be the caribou's weakness is
actually his greatest strength.
That strength is his utter and total unpredictability. One
moment a band of caribou will move along at a fast walk,
grazing on reindeer lichens. Then, suddenly spooked by a
raven flying overhead or even by their own movements,
they suddenly will bolt forward and run for half a mile.
Just when you're about to predict where they're headed,
they inexplicably veer off and trot away in the opposite
direction.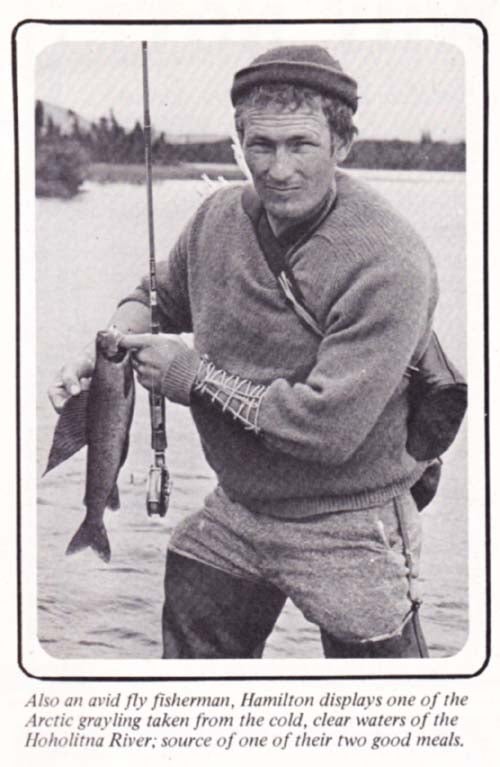 The caribou is moving constantly. The trouble is, he
seldom moves in any direction you want.
Hamilton, my frequent hunting partner, and I were beginning
to get an insight into the ways of the barren ground
caribou on this week-long hunting trip in the high, rolling
Mulchatna River country of Alaska. For several days we'd
been trying to get within good bow range, but the caribou
were refusing to cooperate.
There was nothing wrong with the country we were
hunting. The mountainous country between Stony River
and Lake Clark is a caribou hunter?s dream during late
August and September. Flying over the area by float plane
several days ago, we'd seen scattered bands of caribou on
nearly every range of hills.
This country lay to the west of the Alaska Range, 175
miles from Anchorage. It is typical summer caribou habitat
— open, sweeping ridges and rolling hills, thinly clad in
black spruce and carpeted with a lush growth of caribou
lichens and blueberries. There are also good numbers of
black and brown bear and occasional concentrations of
moose along the river bottoms and in the willow draws of
the higher country.


This was the summer home of the Mulchatna caribou
herd which, during the recent years, has produced some of
the finest trophy caribou in the north country.
To reach the area, Hamilton and I flew out of Anchorage
with Charlie Allen, an Alaskan air charter operator, bush
pilot, trapper and guide for over twenty years. Our plans
were to land on Turquoise Lake, float down the Mulchatna
River in a twelve-foot Avon raft, and have Allen pick us up
a week later downstream.
However, after flying a stretch of the Mulchatna which
flows through a treacherous gorge on its way through the
Bonanza Hills and seeing what looked to be one helluva
ride, we decided on an alternate plan.
Therefore, we had Allen drop us off on Whitefish Lake,
a body of` water five miles long by two miles wide. Circling
the lake going in, we saw numerous cow moose in the low,
swampy hills two miles from the lake. Swooping low over a
ridge northeast of the lake, we spotted several black bear
and a large, lone brown bear not far away.
As the drone of Allen's float plane faded in the distance,
we set up camp and spent the next hour picking blueberries
on the knolls nearby. Then, armed with our fishing tackle,
we walked several hundred yards to the mouth of the
Hoholitna River, which flows out of the lake. The
Hoholitna upheld its reputation as a prime grayling stream,
giving up several eighteen-inch fish.
The menu that night called for grayling sauteed and fried
to a golden brown in blackberry brandy, topped off with a
big bowl of blueberries and cream. Relaxed and contented,
we finally snuffed out the campfire and turned in.
We were up early the next morning, splitting up to
quickly scout as much country on the south side of the lake
as possible. This four-hour scouting expedition revealed
only one bull caribou and several cow moose in the vicinity
of the lake.
However, setting up a spotting scope to focus on some
low hills three miles from the lake, I immediately located
several caribou silhouetted on the skyline. In late August,
the flies, mosquitos and no—see-ums are almost unbearable
in the lower, swampy country. We were correct in guessing
that most game would be at the higher elevations where
wind helped keep the insects away.
Our course was obvious. If we were to hunt caribou,
we'd have to pack up and go where the caribou were,
We dismantled our comfortable lakeside camp and
motored the raft to the far end of the lake. Loading our
packs with enough gear and food to last four days, we
began a painful overland trek across swampy spruce logs
amidst hordes of flies and mosquitos. lt was easy to see
why all the caribou were on the higher, wind-swept
plateaus.
We arrived at a bench approximately five hundred feet
above the lake in the early afternoon. About the same time,
a rainstorm blew in from the northwest, and we hurriedly
established a spike camp. By the time we finished, the
clouds broke. the sun came shining through, and on a hill
half a mile from camp stood a lone bull caribou. It was a
beautiful sight and held great promise for the next day.
We were up early the next morning, heading out to the
south across the open, rolling hills. This was typical caribou
country, which means there is little cover for good stalking.
The Mulchatna caribou herd normally doesn't begin grouping
for the annual autumn migration until September, and
we were confident we would find small bands of caribou
scattered throughout this range of hills. Our plans were to
range far and wide over this country, not concentrating on
any one area.
After traversing a mile and a halfof this high tundra, we
spotted two nice bull caribou bedded down about a thou-
sand yards distant.
"l've seen easier stalking conditions," moaned Hamliton.
There appeared to be no vegetation within several hundred
yards of the bulls, except for the knee-high willow which
grew along a shallow watercourse two hundred yards west
of where the caribou were bedded.
For lack of a better alternative, we split up. Hamilton
crawled along the watercourse, while I circled wide, hoping
to find an approach from the east.
Circling to the east, l spotted a shallow gully which
appeared to run within about eighty yards of the bulls,
which were now facing in my direction. Caribou are near-
sighted, however, and by moving slowly, I was able to crawl
unnoticed across one hundred yards of tundra. Out of sight
in the gully, l quickly made up for lost time and soon was
poking my head cautiously out of the ravine to locate the
bulls.
The larger bull was about severity five yards away, now
on his feet, feeding with his back to me. Easing up further,
I looked for the smaller one. but he was nowhere around. I
headed out of the gully. nocking a shaft to the string of the
homemade take-down bow. I had designed and built the
bow that Summer, and it was now about to be put to its
first and ultimate test.
It's amazing how well camouflaged an animal can be
even when on the Hat Alaskan tundra! Suddenly, off to my
right, the smaller bull — which to now had been bedded
behind a small bush — jumped to his feet. Facing me, he
flicked his head forward several times. In caribou language,
this means, "Halt! Who goes there?"
Not knowing the secret password. I stood there like a
redhanded thief while the now-frightened sentinel wheeled
like an old cow pony and. taking the larger bull with him,
disappeared over the hill.
Feeling not too bright. I half-heartedly followed them,
thinking we might make another stalk. However, after going
about two hundred yards. [ arrived at the crest of a hill
overlooking the Mulchatna River. Down the hill looking up
directly at me was one of the largest Alaskan Yukon moose
I'd ever seen.
I quietly backpedaled out of sight, motioned to
Hamilton and advised him of the situation. The moose
wasn't spooked and was in an ideal situation for stalking.
What worried us were the implications of shooting this
l200·pound critter six miles from the lake. Both Hamilton
and I hold the philosophy that if we can't pack out an
animal, we don't shoot it. Because of this, I've had to pass
up good bulls for two years standing. ~
"Oh, for the joy of having a pack horse!"
I cried, wringing my hands in despair.
It was an agonizing decision, but we decided to shoot
this moose with a camera. If we shot him with the bow, our
hunt would be over, as it would require several days to pack
out the meat. We'd then have no chance for one of those
magnificent bull caribou.
With Hamilton behind me with the camera, I carefully
sneaked up to where the bull moose was lying next to a
patch of alders. I closed to within thirty-five feet before the
bull heard me and stood up, staring for a moment in disbelief,
then wheeled and tore off down the ridge as if the
devil were after him. Hamilton and I were practically rolling
on the ground with laughter.
A month later, during the rut, we'd never risk a stunt
like that, for fear of being ground up into people-burger.
During the next two days, Hamilton and I pulled off
numerous stalks on caribou bulls, but each time something
went wrong. The caribou moved so much that, by the time
we got to where they'd been, they'd already departed for
places unknown. We agreed that getting a bull out in this
open, rolling terrain would probably involve more luck than
skill. When caribou feed, they move along at a pace faster a
man can walk, and a stalk has to be planned accordingly.
Another consideration we took into account was that
any shots we took were going to be long ones, perhaps up
to sixty·five or seventy yards. This is twice as far as I
normally like to shoot, but we'd have to take what came
along in this open country. Another problem is that caribou
tend to jump at the string, much like a whitetail deer. A
caribou can cover that first twenty or thirty feet about as
fast as any animal I've seen and to attempt a shot while a
caribou is looking at or quartering to you is senseless.
Three of our four days in the high country were gone,
and so was most of our food. If we failed to connect soon,
we'd have to head back to the lake three miles away to get
more food.
Rationing our food that night, we decided to hunt the
high country one more day.
The next morning we split up, each of us making a
couple of unsuccessful stalks on moving bands of caribou.
Hamilton was holding out for one of the big busters, but I
was beginning to lower my sights somewhat. Late in he
afternoon, I spotted three bulls high on the skyline. My
approach led me directly to a cow caribou which, after
winding me, took off up the mountain, alerting the bulls.
I continued up the ridge and on reaching the summit
looked down into the valley below. Two somewhat smaller
bulls were feeding away from me, so I worked along the
ridge, thinking there probably were more animals around.
My guess was correct. After going another three hundred
yards, I saw two young bulls top the ridge only sixty yards
in front. I crouched down, letting them pass unaware. I
looked down the ridge and saw another medium-size bull
coming up behind the two smaller ones.
I was crouched down in the open. and when the bull
topped the rise he immediately saw me. Instead of bolting
forward, he kept walking, but was looking directly at me.
This made a good, clean-killing shot almost impossible.
Satisfied that I was only a rock. he turned his head. At
that moment, I released.
The arrow sped out and through the caribou with the
sound of ripping canvas. I began counting…"one, two,
three, four …. " The bull bolted forward. spun around twice,
and when I had reached twenty-three. he went down.
The four-blade Black Copperhead shot from the seventy-
three-pound bow had done a devastating job, entering
squarely in the lungs on the right side and exiting through
part of the shoulder on the opposite side.
He wasn't a world record. Nevertheless. he was a respectable
bull, earned the hard way and put down quickly and
efficiently. I couldn't have been happier.
That night, after packing the entire boned-out animal for
three miles, Hamilton and I eased our tired bodies into our
sleeping bags, after first dining on tender. succulent caribou
steaks. In Alaska, many cheechakos. newcomers, entertain
the notion that caribou meat has no food value.
Apparently these people have neither eaten caribou meat,
nor have heard of inland Eskimos who have subsisted
entirely on caribou for a thousand years. In my opinion, a
good caribou steak is hard to beat.
The bag limit on caribou in this part of Alaska is three
animals, but after hunting without success for one more day,
Hamilton and I decided to call it quits. We packed our gear
and the caribou meat down to the where the drone of
Allen's Cessna 185 awakened us early the next morning.
Flying back to Anchorage. we realized we were leaving
one of the most beautiful parts of Alaska and some of the
most fantastic trophy caribou country either of us had ever
Seen. <—<<
Archived By
www.Archerytalk.com
All Rights Reserved