Published by archerchick on 08 Feb 2011
The Lighter Side Of Bowhunting ~ By Thurm Lowery
You May Know About This Type Of Hunting, But Be Sure Your Horse Does Too!


THE SOUND OF the truck engine and the headlights
swinging past the windows of the Experiment Station woke
me up, As our nearest neighbors were some twenty-five
miles away, we didn't get much company and I already was
pulling on my britches when the knocking started at the
front door. The time was 3 a.m.
Two men and a woman were at the door of the Desert
Range Experiment Station, where my family was living
while I conducted a study on the pronghorn antelope for
the Utah Fish & Game Department. They were looking for
a way over to the Indian Peak Reservation.
Due to the somewhat isolated conditions, visitors always
were a novelty and most certainly welcome, even when
arriving at this time of the morning. My wife, Jean, got up
and made a pot of coffee, baked a pan of hot biscuits and
fried some bacon and eggs. We started getting acquainted over
an early breakfast.

Les and Nora Hunt are from Salt Lake City, where they
own and operate an archery manufacturing company. Les is
a big, friendly kind of guy who moves with the smoothly
deceptive ease of a big cat, even in the confines of a house.
He goes through heavily timbered woods and brush like a
drifting shadow, as I was to discover.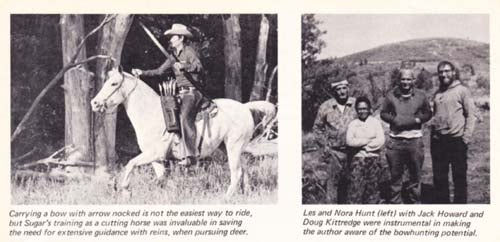 His wife, Nora, is from the town of Jolo, of the Province
of Sulu in the Philippine Islands. Small and pretty with an
amazing personality, Nora is from an illustrious family: One
brother presently is Ambassador to Egypt and another is a
former Governor of Sulu.
The other man introduced was Ray Renfroe. Ray owned
a steel business in Jacksonville, Florida. He and Les Hunt
were good friends and Ray had been coming to Utah for
years, stalking the outstanding deer herds with bow and
arrow. He, too, is a big, rugged man with slow, easy movements
and a soft Southern drawl in his deep baritone voice.
It was the day before archery season for deer would
open in Utah and they were here to bowhunt on the old
Indian Peak Reservation. It isn't an Indian reservation any-
more, the state Fish & Game Department having purchased
and developed some twenty sections as a wildlife habitat –
not a sanctuary — where mule deer could live and multiply
without competition from livestock for available feed. The
area gets its name from the tallest mountain in the area,
Indian Peak, which towers 9783 feet above sea level. I've
seen a lot of good deer country but honestly believe there
are more deer per square mile right here than any other
place on earth.

My wife, Jean, is a pretty good cook for an old country
girl and before long, mellowed by her coffee and homemade
biscuits, our visitors were inviting me to go bowhunting
with them. I explained that I didn't have any archery
equipment and furthermore, I'd never shot a bow and
arrow in my life.
Les grinned, got up from the table and walked out to his
camper. In a minute he was back with a fifty-pound bow, a
brand—new hip quiver and a dozen wicked-looking hunting
arrows. He even had an archer's glove and wrist guard.
"Now you've got a complete outfit," he said.
"But I never had hold of one of those things in my
whole life," I told him.
"Don't worry about it," Ray said. "We'll teach you."
That's how I became a bowhunter.
I didn't even have a hunting license and drove into
Milford the next morning to get it. Later that afternoon, I
drove over to Indian Peak and located their camp. They got
out the tackle, both Les and Ray working at getting me
started with the new equipment while Nora kept up a running
line of encouragement on the sidelines.
They first set up a target. They then showed me how to
hold the bow, how to nock, pull, aim and release the arrow.
It wasn't long until they had me shooting like a Comanche.
The trouble was, I just couldn't seem to hit what I was
aiming at.
I had no idea a fifty-pound bow would be so hard to
pull. I was straining at the unfamiliar weapon, wondering if
maybe they shouldn't have started me out with a lighter
bow when I noticed that little Nora was shooting one exactly
like it. I decided, if that I I0-pound woman could handle
that twang stick, I could, too. I gritted my teeth, tried to
keep my arm from shaking and just shot away.
Both Les and Ray were shooting seventy-pound bows
and it looked easy. Both were really good with those things,
too. If they didn't hit inside the bullseye with every shot,
they acted like it was a major disaster. I finally hit the
target somewhere out near- the edge and I considered it a
whopping success.
Les Hunt, apparent even to a novice like myself, was an
outstanding shot. I muttered something about Les being a
good shot and Ray replied, "I've hunted with a bow for
many years and I've seen hundreds of really good bowmen.
I've always said, 'If I ever had to pick a man who I would
let shoot an apple from my head at thirty yards with a
broadhead, it would be Les Hunt'." That was rare praise,
especially coming from a man who himself is an expert
archer.
We hung around camp until about 3:30 p.m. talking,
swapping deer hunting yarns and just getting better
acquainted. As the rankest of amateurs, I knew nothing of
the bow and arrow as a game-getter. I asked a lot of questions,
all cheerfully answered.
Renfroe is an expert with both a rifle and handgun. He
has taken a deer with his .44 magnum Smith & Wesson at
300 yards. He says he has taken more deer with a bow than
with either of the firearms.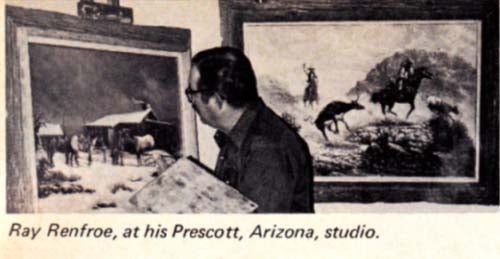 All three said most of their kills were between twenty
and thirty—five yards, although Ray had killed a buck at
over sixty-five yards and Les once killed a big buck at over
ninety yards. Nora used a fifty-pound bow while the two
men pulled heavier ones; Ray preferring a fifty-five to sixty-
five-pound pull but has hunted, and been successful, with
bows pulling over one hundred pounds. Les shot a seventy-
pound bow and generally preferred slightly stronger bows
than did Ray.
They were quick to explain that the bowhunter must be
a different breed of cat than the rifle hunter.
Firstly, he must have more patience. He not only has to
stalk the animal, he must make his shot. Then, if the animal
is hit, the hunter should just sit down and wait. According
to Les, there is little shocking power from the arrow hitting
a deer. If he isn't pursued, the animal usually runs a short
distance and then lies down.
"If the hunter waits thirty minutes before starting to
trail his deer, he usually finds him within a quarter of a
mile, completely bled out," said Les Hunt.
Before I knew it, it was time to start our hunt. Les and
Ray had a new wrinkle on hunting: motorcycles. They
didn't actually hunt on the bikes, but would ride to an area
they wanted to hunt, park it, then hunt on foot. When they
killed a deer, they could carry it out on the motorcycle,
which beats dragging or packing out piggy-back all to
pieces.
This was my first experience with anyone hunting on
motorcycles. They climbed aboard, kicked over the engines
and roared off. They had offered me a ride but I figured I'd
let well enough alone and chose to walk.
They were wearing camouflage suits and even put covers
on their bows to make their outlines blend better into the
trees. They'd sprayed themselves with something designed
to cover the human smell. I'd been given an extra—heavy
dose 4 my old, red hunting shirt and blue jeans didn't
blend into the background too well. I don't know what the
stuff was, but I smelled like a walking pine tree.
I had only walked about half a mile from camp when I
came to`a little draw with a small stream running down its
middle. Standing just on the other side were two does and a
big, old buck, about fifty yards away. I took dead aim,
drew all the way back to the razor—sharp broadhead tip, and
let fly. I let fly three times before I came close enough to
scare them.
When I finally succeeded in scaring them off, I picked up
my arrows, cussed a little, then went on with my hunt. I'm
not much of a cusser and was beginning to suspect I wasn't
much of a bowhunter, either. Somehow, the two just seemed to go together.
About a mile and thirty minutes later, I saw another pair
of does forty or fifty yards away. I was improving with
experience I scared them off with just two shots. No
matter how hard I tried, I couldn't sneak up any closer to
those darn deer. I think they came equipped with ESP.
They'd let me get just so close and no closer. I'd sneak and
creep and crawl and, as soon as I thought I might be getting
close enough, I'd hear a bouncing, thumping; when I looked
up, there they'd go.
I hunted until dark. I guess I shot at half a dozen deer,
but they couldn't have been any safer in the San Diego
Zoo. It didn't help my feelings any when I got back to
camp and learned that both Les and Ray had bagged deer.
Les had killed his from some sixty yards, a big four-pointer.
I figured the law of averages would have to catch up
with me sooner or later and I'd hit a deer by accident if
nothing else, so I headed for home vowing to return the
next day.
That night I told Jean about my hunt and how discouraging
it was not being able to hit anything. "I can't get
close enough," I said. I then remembered how in times past,
I sometimes could ride right up to a deer on a horse and not
seem to scare him at all.
"Wonder how it`d work if I took Sugar over tomorrow
and hunted off her'?" I ventured. All the encouragement I
got out of her was a sleepy, "Why don't you try it and
see?" as she rolled over and pulled all the covers off me
again.
All my life I've been horse crazy, believing that anything
really worth doing probably can be done on a horse. My
mother claims I would walk to the pasture to catch my
pony to ride to the outhouse. This in mind, early the next
morning I loaded my gray quarter horse mare in the trailer
and pulled her over to Indian Peak.
I don't know why it's possible to ride up on a deer
horseback without scaring him. It doesn't always work, but
perhaps they hear the four feet of the horse hitting the
earth instead of the two feet of a man and don't relate the
sound with danger.
I pulled into their camp just before daylight. My friends
were already up and Nora had a pot of hot coffee ready.
Over a steaming cup I told them what I planned for the
day.
"Won`t it scare the deer when you get off to shoot`T"
Ray asked.
"I don't intend to get off," I answered. "I'm gonna
shoot right off her back."
I saddled up and tried a couple of practice shots. Sugar
was tense and nervous at first, but decided that twanging
stick meant her no personal harm and settled down. standing
like a rock.
Les, Nora and Ray took off on their motorcycles. I
headed my horse off up through the cedars. I rode about
fifteen minutes when I came around a big pine tree
there stood a good-sized buck. He stood looking at the
horse A I don't think he even knew I was anywhere around.
I started fumbling for an arrow, and trying to get it
across the bow and nocked on the string. All that commotion
scared him and, when I looked up again, all I could see
was his big butt disappearing through the trees. Lesson
Number One: Keep an arrow ready on the bow!
I rode on my happy way, found a fat doe, made a
beautiful twenty—yard shot and missed her by twenty feet. I
came right up on several more deer. Some ran off. but
others just stood and looked at me. Those that did stand. I
shot at — and missed — and used up a year's supply of
expletives. I wondered how the Indians ever made a living.
All that getting off and on to pick up my arrows was nearly
as tiring as walking would have been in the first place.
Late that afternoon, I rode around the base of Indian
Peak Mountain itself. There's a spring right at the botaoni
on the east side. I had been thinking I would get myself a
drink and let old Sugar fill up on the pure, sweet spring
water.
As I rode around a sharp outcropping of stone, I came
upon six does and a big, fat, two-point buck, getting themselves
a drink. They jumped away from the waterhole and
went bouncing off the way mule deer will when startled.
They then stopped and turned around in their curious way
to see what was going on.
Off to the southeast was a long, easy slope with very few
trees. The ground was fairly smooth for about a half a mile
and, if I could just get between those deer and the mountain,
they'd have only one way to go — right down there
across that open flat.
I kissed at the mare and she was going full speed by the
second jump. I reined her over to the right and she was in
position to head off the deer from the peak. Contrary to
popular belief, deer aren't really all that fast. Deer can duck
and dodge around in the timber pretty quick. all iiglit. but
in an all-out, wide—open race on open ground. a fast horse
can outrun them.
This was open country. I had my mare headed towards
those deer now and they were in full flight through
that treeless area. Old Sugar was a trained calf-roping horse
and a good one. That was no calf up ahead but it didn't
take her but a couple of jumps to get the idea that she was
supposed to catch whatever they were.
The deer stayed together in a bunch until I got to pushing
them pretty hard. then the does started peeling off. The
ground was fairly level with a gentle slope and there was
excellent footing. I had the mare wide open and I put her
after the buck. Before long we had him cut out by himself.
At first he did a pretty fair job of staying ahead of us.
then began slowing down. He was running out of oxygen.
Deer are not built for an extended burst of speed and seem
to run out of breath pretty quickly. He had his mouth
open, sucking in all the air he could with each heaving
breath. Suddenly, somehow, he was around me and headed
back up towards the peak.
I gave the mare a whack with the bow and put her after
him again. He almost made it back to the spring when we
got around him and got him turned back down towards
that open slope. He was really getting tired now, blowing
like a steam engine and weaving from side to side.
Sugar was right on his tail. The grain—fed mare was
strong, in excellent shape and still wanting to run. She fell
in on that buck just like a calf in a rodeo, dropping her
head, laying her ears back and rating him like any good
horse in a matched roping.
I dropped the rein on her neck, fished around and got an
arrow out of the quiver and drew it across the bow. I leaned
over to the right as far as I could without falling off to keep
from shooting my horse between her ears, drew back as far
as I could and let go. I shot right over his back. He must
have been all of five yards away.
The buck was pretty well rundown now. He was dodging
and weaving, trying to make it back into the brush. I would
shoot, fumble for another arrow, head the deer off, shoot
again, then 4 instant replay. I ran that deer all over that
open slope.
The deer's patron saint must have been looking after
him. I shot up every arrow I had and never touched a hair
on his body. I pulled my horse up and just sat there wondering
about all those novels of the Old West I've read. As
far as hitting anything from a running horse with a bow and
arrow, or standing on the ground for that matter, I'm afraid
if I'd been a Sioux, Custer still would be standing.
My mare was blowing hard so I stepped off, loosened the
cinch and started leading her back up the slope to cool off.
I was wandering around, looking for my arrows, thinking I
should have thrown down that bow and jerked my lariat
loose and roped that buck. If I had tied him to a tree,
perhaps I then could have hit him e but I doubt it.
Suddenly the sound of motorcycles broke through my
foul mood. I looked up to see Les and Ray come whizzing
down across that open slope. They had their engines
wound—up tight and were really raising a dust.
They rode up, killed their motorcycles and put down the
kick stands. They got off and walked over to where I was
standing. Both men had big grins on their faces. They just
looked at me, as I stood holding my mare and feeling
foolish. Finally Ray spoke: "We were up on the ledge back
there and saw the whole thing. I want to buy that horse!"
No, I didn't sell my roping mare to Ray Renfroe. The
incident did get him so interested in horses, however, that
he purchased several registered quarter horses and became
an ardent, accomplished horseman. He sold his steel manufacturing
company and began a completely new career
that's about as far removed from the steel business as one
can imagine. He now resides in Prescott, Arizona, and is a
very successful Western artist. His paintings and bronze
castings are in such demand that most are sold before he
ever finishes them.
Les and Nora Hunt still own and operate their archery
equipment company in Salt Lake City. Les spent over five
years developing a special type of hunting arrow which he
now is manufacturing, called the "Big Daddy."
The Hunts and Ray Renfroe filled their tags on the bowhunt.
I managed to keep my record completely clean: I
never did get one! <—<<