Published by HoytFan221 on 29 Nov 2009
The 2009 archery season started in Colorado with my great anticipation. I had practiced for the past 3 years to be prepared and capable of responsibly hunting and taking my first Colorado Mule deer buck. I had practiced with a Diamond Edge bow set at 50# draw weight until early this summer. Then, I acquired my Hoyt Viper Tec with draw set at 60#, equipped with custom strings [courtesy of Mark Hershey], Cobra 5 pin sight, Ripcord fall away arrow rest, Carbon Express Maxima Hunter arrows tipped with Rage 100 g. Broadheads. I worked on a ranch all this summer to pay it off. It was expertly set-up and fine tuned at the Sportsman's Warehouse in Colorado Springs, Colorado.
On the afternoon of September 8, 2009 I left my father and eased to my stand. I had observed deer from this area many times over the past 2 years of hunting with my older brother and Dad. I saw a buck on the hillside across from my spot of concealment. The stalk would require all of my patience and skills learned from years accompanying my family as they hunted. After 2 hours it was really getting late in the day when I finally worked within range. I had left my range finder at home. I was there. I felt it would be a 40 yard shot. I came to full draw and an easy release. This was a 150 class buck in full velvet. I would be really proud to take this animal as my first. I watched in disbelief as my arrow missed!
That was it! After 3 weeks of walking 4 to 5 miles each day that I hunted, a 2 hour impossible stalk, an easy draw and release. A complete miss! Was this how my season was to end?  Well, maybe I could connect again.
On Friday, September 18, about 4:30 PM, with good clear sky and warm, I again left my Dad and eased into where I would watch for THAT buck. I start my still hunt and at 5:00 I see a deer with horns out on the ridge. When he turns his head I realize this is NOT the buck I had missed 10 days ago! I begin my stalk and watch him settle down near the top of the ridge. I have to make a complete redirection to keep the wind to my advantage. I drop half way off of the ridge and circle. He is up on the top of the ridge, lying down and has not seen or scented me.
I am army crawling, using every caution to not be heard in the dry leaves as I approach the place that I last saw him lie down. I see the antlers! He is looking away. I get to one knee as he stands up and looks my way.
Am I busted?        Not yet!
He is watching in my direction! I set him up on my 20 yard pin just behind the shoulder and release. I smoked him at 25 yards! I mark the spot. I watch him move down the ridge in that "hunched up sway". My heart is still pounding, even after 15 minutes. I have to go get my Dad! With his help I know we will track him down.
We pick up his blood trail and see him now 45 minutes after my shot. Dad encourages me to stalk closer and finish him. It is really getting late. I close to what I thought to be about 30 yards. I let my arrow fly. It hits a little high and away he goes! After waiting 30 minutes we try to track but it is just too dark. We will come back tomorrow and pick up his trail.
The next morning we search for his trail. We have to circle and circle and circle. We finally pick up a light trail and then THERE HE WAS!!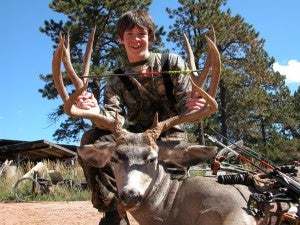 Our family's taxidermist, Derik Rich, now in Texas will register it in P & Y at 183"
BOY, AM I GLAD THAT I MISSED THAT "LITTLE" BUCK!!!
Matt Eden
Woodland Park, Colorado