Published by archerchick on 06 Sep 2010

BOW AND ARROW HUNTING – AUGUST 1990
LONGBOW HUNTER – BY Pete Fesselman
DAY THREE atop the swaying
white oaks of southem Alabama
was drawing to an end. Only five fawns
and two rather large does had managed
to arouse my attention, as I waited
patiently for a shot at a whitetail buck.
The fading sunlight indicated it was time
to call it quits and head for the nearby
railroad tracks. I descended the tall
white oak, retrieved my bow and headed
through the brush and kudzu vines
toward the tracks. The tracks angled
south and, after a fifteen—minute walk, I
arrived at a pre-arranged crossing where
I was to meet my hunting partner, Byron
Ferguson, one of the most popular long-
bow archers since Howard Hill.


As I stepped from one tie to another,
I wondered who had established the dis-
tance between railroad ties. Stepping on
each tie made the steps unnatural for my
gait and reaching for every other one
was also awkward. Maybe that was the
point: Get off the railroad ties? Anyway,
the daily aerobic trek to and from the
tree stand probably did me some good.
As a native Westerner, hunting
whitetails and sitting in tree stands were
both new to me. Instead of stalking the
game, as I was accustomed, I'd sit and
wait at their food source — acorns —
and hope for a good shot. Five days of
traversing the railroad ties came and
went and that wishful shot never hap
pened. It did, however, happen for
Ferguson on the fourth day, when he
scored on a small button buck. The five
days were fun and exciting and they
gave me time to reminisce.
It has been thirty years since Jim
Dougherty first taught me how to shoot
a bow and arrow. I was 8 years old
then. Dougherty and Doug Kittredge
had an archery shop in my hometown of
South Pasadena, California: Kittredge's
Bow Hunt. Each Saturday, Dougherty
gave archery lessons in the rear parking
lot for fifty cents. My dad would drop
me off for the morning lesson and, along
with several other wanna-be Robin
Hoods, we'd shot arrows all morning at
several bales of hay that lined the end of
the parking lot.

I still can remember the bows we
used. Made of fiberglass, the limbs were
moulded as one unit and had a light
green pearlescent tint to the somewhat
translucent fiberglass. The moulded grip
was made of red plastic and each side of
the handle above the grip had a built-in
arrow rest. It didn't matter if you were a
righty or lefty.
The arrows were wood, usually five-
sixteenths-inch in diameter, as the bows
were about twenty—five pounds draw
weight. They were tipped with target
points, which slipped over the end and
were knurled in place with a special tool
that had a crank on one side.
Barred feathers were then standard
fare. Solid feathers were a premium; just
the opposite of today, when most turkey
feathers are basically white. The
feathers always seemed to be left—wing
— another puzzlement I never could
quite figureout. There were right—wing
and left—wing feathers, and there still
are. I knew the difference by looking at
each, but it always seemed that, no mat-
ter what side of the turkey the feathers
came from, there could be right- and
left—wing. Maybe that's why we have
vanes today.
I met Byron Ferguson at the Shooting,
Hunting, Outdoor Trade (SHOT)
Show as he was displaying his wares in
the form of self-made longbows, wooden
arrows, traditional archery leather gear
and tree stands. He has built a reputable
business in Alabama building tree
stands. He was branching out into the
traditional archery equipment market
with his new company, Ferguson Adventure Archery.
I learned this newfound friend had
amazing abilities with the longbow and
arrows that won him the acclaim and
admiration of people around the world.
Ferguson has dazzled crowds with his
shooting exhibitions from the United
States to Europe and as far away as
Japan. While exhibiting at the 1989
National Game Fair on the grounds of
Chambord Castle in Paris, France,
Ferguson was voted, "King of the
Show." He was the first traditional
archer to have been invited in thirty-five
years.
In Tokyo, Japan, Ferguson was
featured on a television show entitled,
Super People. His amazing feat, filmed
live, was to shoot an arrow through a
lady's diamond ring valued at $17,000.

The arrow flew true and hit its mark,
dead center. Ferguson claims this shot
was by far the most difficult of his
career.
As one of the top bowhunters in the
United States, Ferguson is in demand
for bowhunting clinics and seminars
everywhere. He works with celebrities
as a technical advisor and personal ar-
chery instructor. His skill with the long-
bow has been compared to that of the
legendary Howard Hill. Whether he's
shooting a coin out of the air or quail on
the wing, his smooth, fluid—like shooting
style and pinpoint accuracy reflect his
mastery of the bow and arrow.
Reviewing this individual's credentials
and receiving an open invitation to hunt
whitetails with him found me winging
my way to Alabama the following
November. Ferguson met me at the Bir-
mingham airport and we were soon
headed south. We made a quick stop at
a local sporting goods store for my non-
resident hunting license. The all-game
license was good for seven days and set
me back only $5 2. Ferguson gave me a
written permission slip to hunt the destination property.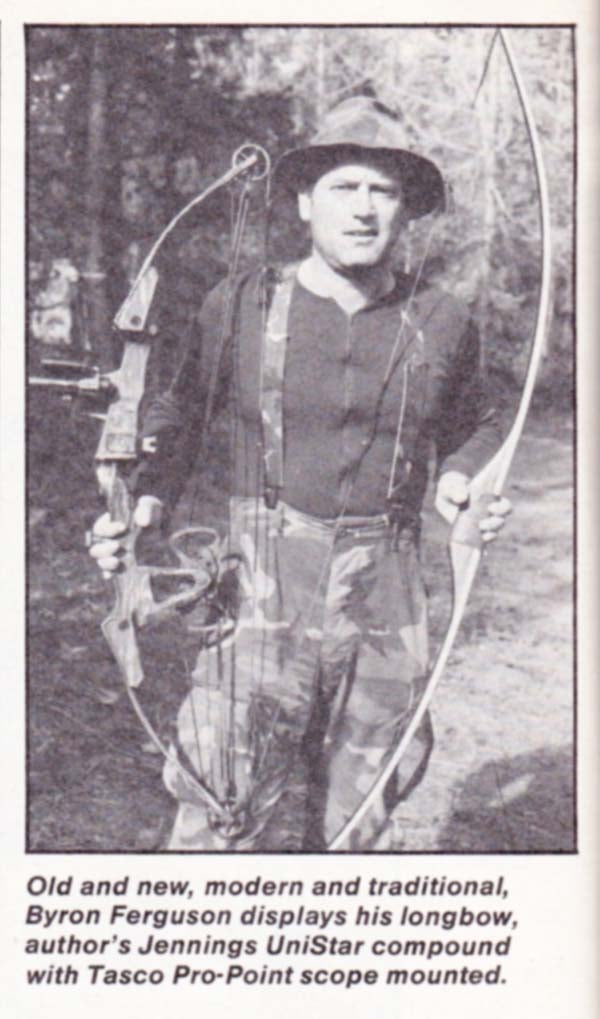 In Alabama, all land
is considered posted and hunting is by
written landowner permission only! You
must carry proof with you at all times.
Our deer camp was situated in Chambers County,
which is not far from Auburn. This county is located in a
cross-section of the state known as the
Deer Belt. The Deer Belt is where the
Alabama Department of Conservation
and Natural Resources has conducted
studies and located the highest concen-
tration of deer per acre. This Deer Belt
runs horizontally across the state. On
the Mississippi/Alabama side, the
northern border would be near Aliceville
and the southern border would be near
Gilbertown off Highway 84. On the
Georgia/Alabama side, Roanoke would
be the northern limit, while Eufaula
would be considered the southern edge.
My hunting gear included a Jennings
UniStar bow. It features a unique
UniCam that sets it apart from all other
bows on the market. The draw length
range of anywhere between twenty-
seven and thirty—two inches can be met
by simply repositioning the cam or
changing the power cables and string
cables. Various draw weights range be-
tween thirty and seventy pounds. The
UniStar has a fifty-percent let-off, while
the newer UniStar Plus has an optional
sixty—five—percent let-off


For western bowhunting, I use a standard
three-pin sight, set at twenty, forty
and sixty yards. For this trip, I decided
to experiment with something totally
new. Tasco, makers of binoculars, rifle
scopes, microscopes and other optics,
developed an archery mount for their
Pro-Point electronic red-dot reticle pistol scope.
The Pro—Point is a one-power
pistol scope that has an illuminated red
dot as its aiming point in lieu of crosshairs.
Ferguson told me that most of the
shots from the tree stands would be at a
fixed distance of about twenty-five
yards. The scope mounts readily adapted
to the UniStar bow and was easy to
adjust. My practice shots using the Pro
Point improved, because my concentra-
tion was centered on the little red dot.
Using the Prc>Point, I was able to focus
my attention directly on the bullseye,
blocking out distractions.

I'm not quite sure how the Pro-Point
would work for the "locate and stalk"
type of hunting. Even though the scope
and mount are fully adjustable for wind-
age and elevation, it could prove
impractical for the user to adjust when
the shooting distance is apt to change at
any given second. On the other hand, if
all your hunting is from a blind or tree
stand where the shooting range is static
and known, the Prc>Point could be
advantageous.
That night in camp, I unpacked my
bow with the Pro-Point sight mounted in
place.
"What in the world is that?"
Ferguson asked.
I explained the new sighting system to
him and he just shook his head in
amazement. His serious devotion to the
longbow really made sense; more sense
perhaps, than my constant need for
newer and updated tackle.
The next day, after devoting four
hours of the morning to sitting in tree
stands and neither of us having any luck,
we began to practice at a target butt
Ferguson had at one end of the camp. I
had no trouble hitting the three—square-
foot target from the twenty-five-yard distance.
Neither did Ferguson. In fact,
each of his arrows were directly in the
center, so close to one another that the
fletches on the arrows were touching
each other. This guy can shoot that
longbow!
Ferguson began to demonstrate some
of his shooting positions — positions
that seemed virtually impossible with a
compound. First, he got down on his
hands and knees and faced away from
the target. He reached back over his left
shoulder and shot completely opposite
the way he was facing. The arrows
grouped just as tight as before.

His next position was down on his left
knee with his right leg extended off to
the side. He crouched over and made
himself as small an object as possible.
From this position, he held the bow
parallel to the ground and shot several
arrows at the target -— same results!
I was impressed. Here was an
individual who had taken it to heart to
work and practice at these shooting
positions so he would always be ready
to shoot from any position.
He claims it is all part of being prepared
in the field. He talked of how he
was once bent over, passing under a
fallen tree, when he saw a nice buck.
Normally, this would have been
awkward for someone who never had
shot from this position. Ferguson's pre-
paredness paid off, as he shot the buck
without hesitation.
For the grand finale, Ferguson lay
face down on the ground. From this
position, he was only partially detectable
in the leaves, but there was no
silhouette to spook the wariest of game.
From this horizontal position, Ferguson
shot several arrows with the same pin-
point accuracy.
To locate game, Ferguson believes in
hunting the food source.
"In the deer belt area of Alabama,"
he explained, "the number one food
source is white oak acoms. The acoms
don't necessarily fall at the same time,
they drop sporadically as the weather
and seasons change. One tree might be
dropping, while some other nearby trees
might not start dropping until two weeks
later. You have to constantly watch and
monitor the food source. Your tree stand
gets lonely if the white oak down the
road is dropping and yours isn't. You
can have deer feeding for days at a time
at a secondary food source, but as soon
as a fresh white oak starts dropping in
the area, they'll go right to it.
"In the swamp areas," he continued,
"You'll find chestnut oaks and on the
mountain tops you'll find red oaks. The
deer prefer chestnut oak acoms over the
red oaks, which are rather bitter.
"However, when food is scarce, the red
oaks will draw deer when the other two
aren't available. I've seen deer travel
quite a distance to get to the white oaks,
including swimming across some rather
swift streams. The food source is impor-
tant, as far as I'm concerned. It has
always worked for me."
Ferguson has an interesting philosophy
when it comes to shooting. Most
shooters feel the bow itself is an extension of
the shooter. Ferguson feels that's
important, but to him, the arrow is the
extension of himself.
"The bow is used only to propel," he
said. "By seeing myself as an extension
of the arrow, I mentally 'see' the flight
of the arrow .en route to the target. The
bow doesn't hit or kill anything, so why
is it so important? It's the arrow that hits
the target or kills the animal. That's
what counts!
"When I'm in the field hunting and I
don't see game," he continues, "the
animal wins. If I see game and don't
have an opportunity to shoot, then it's a
tie. If I have the chance to shoot, wheth-
er or nbt I elect to shoot, then I win.
When I'm able to kill the game, that's
the supreme win. I now have a trophy,
but I don't keep score."
Ferguson makes and sells three different
longbows: the Hunter, which has
two laminations, the Alaska with three
and his top-of-the-line Safari, which has
five laminations. His arrows are wood
with a three-inch section of 2317
aluminum shaft footed over the broadhead end.
This enables him to use the
screw-in broadhead inserts for broadheads.
He uses only one broadhead, the
Simmons Interceptor (Jerry Simmons,
Dept. BA, Route 2, Box 49, Jasper, AL
35501).
This broadhead is a delta-shaped head at
190 grains, similar to the
original Howard Hill broadhead. They
are expensive, but Ferguson says they
are strong enough to be used over again.
Bryon Ferguson's quest ventured off
into compounds for about seven years
and he claims never to have killed
anything with one. It seemed that, no
matter how much he concentrated and
practiced, nothing seemed to work It was
at this point, several years ago, that he
returned to the longbow and has stuck
with it.
On the afternoon of the fourth day,
Ferguson was late getting back to the
track crossing. After twenty minutes, I
heard the hum of his four—wheeler coming
down the cut. I pointed my flashlight
in his direction so he'd know he was getting close.
At fifty yards, I saw the faint
headlight of the Yamaha. I also could
see two eyeballs glowing in the beam of
my light. He'd shot a deer.
Back at camp, Ferguson explained
how this small buck kept coming in
toward the white oak, then would suddenly
run off before getting close enough
for a good shot. He decided to wait it
out, keeping a close eye on the legal
shooting time. With about five minutes
left, the lone buck wandered into shoot-
ing range of thirty yards. As it stood
motionless looking around, Ferguson
did the same. When the buck turned ·
quarter angle, looking away from the
tree stand, Ferguson came to full draw.
When he felt himself fully extended, he
chose the proper flight plan and
released.
The arrow hit its mark in the right
flank, traversing through the lungs and
heart before lodging in the left front
shoulder. The buck sprinted a quick
forty yards before falling to the ground.
Ferguson could still see the buck from
his tree stand. He confided in me that
this was number seven for the year.
Alabama regulations stipulate: "bucks
only with antlers visible above natural
hairline — one a day." Consult the
regulations for other specifics.
I have taken many animals over the
years with a recurve and a few with a
compound. I don't think I'm quite ready
to hang up the compound and become
another Howard, Ben, Fred or Byron,
but it's certainly something to think
about!
ARCHIVED BY
www.ARCHERYTALK.com
All Rights Reserved