Published by archerchick on 08 Feb 2011
One Shot Buffalo Bash ~ By Larry Bamford
A One-ton Western Symbol Is Downed n The Time-Honored Way!
" YOU CAN'T KILL a buffalo with a bow and arrow," the voice
boomed over my end of the phone. I was talking to George Krause, manager
of an extremely large ranch in Wyoming, one of the last strongholds
of the Plains bison. When I first mentioned my interest in a hunt for buffalo, the rancher was
intrigued with the idea, but he was startled when I stated I would use a
bow and arrow.

"Frankly," he said, "your plan is foolish and impossible. Over the years
quite a few buffalo have been har- vested off the spread for my freezer,
and frequently it took several high- powered rifle slugs to put them down.
I'm afraid that one of these huge animals may be a little too much for
an arrow."
?
"Wait a second," I said, "I'll agree that an arrow has virtually no knock- down
power, but death is caused by internal hemorrhage." The long pause over the
phone indicated that Krause was skeptical. Finally the voice continued on the
other end of the line. "Big bulls can be dangerous because of their belligerent
and unpredictable nature."I replied, "I will accept the responsibility for my own
safety and I'll even sign a release if you want." After some grumbling from the
other party, I was relieved to hear, "That won't be necessary."

?
Now that this was settled, I asked whether it would be possible to hunt a
bull which had broken out and was currently outside the ranch proper.
He came back, "There are plenty of bison outside, and some are as far
away as six to ten miles. A few have not been seen for months. I think
some of these animals are wilder than those which were around in pioneer
days."
?
I was then subjected to several hair-raising tales of injury and near
injury to humans by the temper- amental beasts.
"How about using horses?" I asked. "Absolutely no!" I heard Krause
bellow. I was afraid to ask why not when he went on to explain. "Buffalo hate
horses. You will be asking to get hurt if you use a horse," he said.

?
"OK," I replied. "I want to hunt and will take my chances. But I insist
on having the freedom to hunt alone, and I want to determine what I
shoot." George and I agreed that if I succeeded in collecting one of the
large herd bulls, I should cough up one thousand dollars. The concept of
this hunt was developed after the archery season in Coiorado. I was
looking for an excuse to get outside prior to the beginning of our November
antelope season. As long as I could remember, I had been interested
in taking a buffalo, which I consider a symbol of western hunting.
?
I wondered about the actual conditions of such a hunt. Past bison
hunts conducted in Colorado were much like the South Dakota, Utah and
Arizona hunts. The purpose of those hunts was to harvest surplus animals
from a controlled herd. The buffalo were designated, marked ahead of time
and a conservation officer would go along to make certain the hunter shot
the right animal. This sort of hunting is normally limited to riflemen who shoot
from fifty to one hundred yards, making the kill a foregone conclusion.
In my opinion that is not hunting, just shooting.
?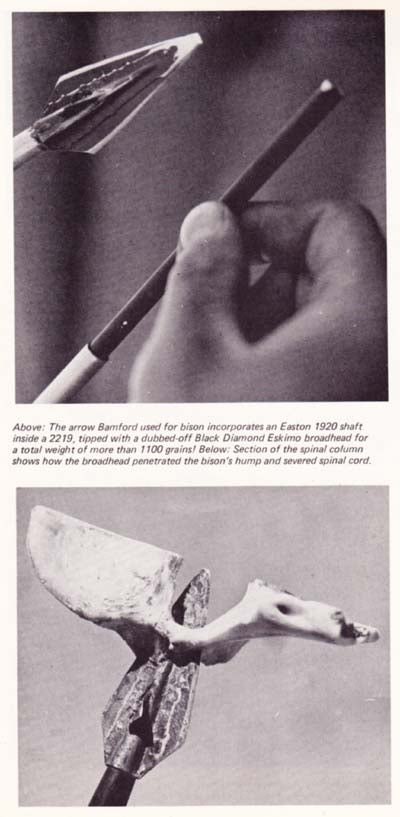 My interest in collecting a bison became active when the Pope and
Young Club decided to accept the species for its permanent records, I
was curious about how the club might interpret the fair chase regulations,
since every animal that I knew of was on an enclosed range. The best way to
examine buffalo huntingconditions, I thought, was to engage in a hunt.
I phoned all of the game departments in the previously mentioned
states to discuss how their hunts were handled. After these conversations, I
concluded that the only free-roaming, unrestricted herds in North America
included Alaska's Copper River herd and one in the Northwest Territories
of Canada.
?
The Wyoming Game and Fish Commission gave me a lead on another
type of bison—hunting opportunity in the lower forty-eight which they con-
sidered to be more sporting than most. The commission information officer
suggested a huge ranch in south-central Wyoming that was home to several
hundred head of buffalo. This particular ranch consisted of twenty square
miles of deeded land with a similar amount in leases of public land. The
situation sounded good to me, because I realized most other hunting for the
species also occurred on ranches, many of them smaller in size.
?
According to the Game and Fish people, the ranch might allow me to
hunt on my own, since it was not in the hunt business. They went on to
say that all of the herds of buffalo in the United States were contained to
some degree. They also told me that most private ranches can't afford
bison-proof fencing, and as a result the animals break out frequently. I
was told that fences contain buffalo about as effectively as they contain the
whitetail deer which inhabit the same area. The deer go over the fences,
and the buffalo go through them. After my phone conversation with
rancher George Krause, I immediately began planning details for the hunt.
?
First I called a friend and photographer, Les Parlin, to see if he would
accompany me. He said he'd like to go and even offered his pickup truck for
the trip. The equipment for the hunt received great attention, I examined
the thickness of a buffalo hide and decided to use the heaviest Easton
aluminum arrow, a 2219, with a 1920 shaft inside. The double-tube com-
bination with a 125-grain broadhead, nock and feathers brought the total
weight to approximately 1100 grains. I quickly discovered that my
fifty-seven-pound bow would not shoot this arrow. Therefore, I tuned a
seventy-pound recurved bow and eventually got the arrow to fly.
?
Les and I arrived in Wyoming on the first Saturday in October. The
elevation was 7500 feet. Weather conditions were uncertain and snow
was predicted. We could spend two and a half days trying for a bison and
were prepared to come back the next weekend if l did not score.
The setting was beautiful. A river called the Laramie snaked its way
through a vast valley dotted with green willows and grasslands as far as you
could see. The Snowy Range loomed up on the horizon to the south and
west.
?
That evening George Krause, Les and I talked over the hunt plan.
George still doubted that I could get the job done and warned me again
about approaching the big bulls on foot. I was told that if I shot one and
the other buffalo smelled the blood, they might attack their wounded
friend and tear him to pieces as a result of their fear. Also, if I caused a
herd to stampede and they blindly came my way, I might be hard to find
after the herd passed. George mentioned that buffalo love to fight and
roman-nosed bulls are the rule rather
than the exception.
?
Krause's foreman, a likable fellow named Bob, said that a buffalo's only
natural enemy in the early days was the grizzly bear. During the 1800s
mountain men related tales of grizzly taking on bull buffalo and not faring
too well. It was amazing for me to hear that a bison's endurance would
enable him to run steadily for hours. Indians who chased buffalo on horse-
back attempted to catch them in a short distance before their horses
would tire.
?
I was aware that buffalo had been on a comeback trail in the United
States since the turn of the century when the total number had dwindled
to 55l. The last free-roaming herd, then in Yellowstone Park, consisted of
twenty-two animals, These figures contrasted with an estimated sixty million
buffalo in American when Columbus discovered the continent in 1492. Just
prior to the Gold Rush of '49, the herds still totaled over twenty million.
There are several subspecies of buffalo with the Wood Bison of Canada being
the largest.
?
The next morning dawned cold and clear. After a hearty breakfast, which
included buffalo burgers, we loaded our gear into two pickups, then
headed for a spot where George had spotted several big bulls, I asked to be
dropped off on a large grassy flat about two miles north of the river and
near some low rolling hills. This area was covered with small sections of tall
grass, weeds and scrubby trees. As the four-wheel-drive truck bumped to a
stop, I saw seventeen antelope and a half-dozen mule deer grazing to one
side.
?
I invited our host to observe the action at long range so that no vehicles
would be involved. I rejected Krause's idea of having Bob back me up with a
rifle. Bob told me that on the lower end of the Nelis Creek drainage, a
large bull had broken out and was challenging everything in sight. Les
would follow along but was also asked to stay at a distance and to use his
300mm telephoto lens with a 2x con- verter for pictures.
?
After a twenty-minute walk, we began seeing buffalo in the open grassy
valley. The grass was shorter than usual after a season of less than normal
rainfall, As a result, quite a few animals were staying near the river
where the feed was better. This was fortunate, because I had already con-
cluded that some cover was going to be necessary to approach the buffalo.
The morning hunt produced lots of exercise but no shooting, In the early
afternoon I spotted a bull accompanied by ten cows walking in wide open
country.
?
Wanting to test their reaction, I walked upright directly toward them. The bull
kept moving away and never let me come closer than 150 yards, Finally he gathered his
cows and thundered away in a cloud of dust. I tried five or six more careful stalks
with no success. On one occasion I topped the crest of a hill and surprised a large,
black-colored bull who swapped ends, running away at forty-five degrees. I was
certain I could have hit him on the run at sixty yards but declined the shot for fear of only
wounding the beast.
?
I slipped up on another small herd feeding in the direction of the river.
Walking and feeding easily, the animals were outpacing me as I hurried to
intercept them. I inaneuvered out of their sight and ran for at least a
quarter of a mile toward an opening in the trees where I expected them to
pass. I arrived too late and saw the last buffalo walk through the gap just out
of range.
?
My last chance before dark occurred as I watched a lone bull feed
into a patch of tall grass and small trees. I circled and waited for him to
come out on the opposite side. As I sat there, I wondered what I would do if
he charged. There was absolutely no way that I could outrun him, and I
was at least a mile from the nearest tree suitable for climbing. The grass
began to wave some seventy yards in front of me and I got ready.
?
I heard the bull snort as I rose to one knee and saw him,turn around,
apparently going to exit the same way he came in. I hustled to the southern
end of the patch of brush just in time to see the bull clear the trees at fifty
yards. I knuckled the string, looked down the drawn shaft for a second and
released. The string hit my jacket sleeve with a loud WHAPI The arrow
flew in an erratic manner, hitting the ground a good five yards in front of
the buffalo, which whirled and pounded away for a safer spot.
?
The sun was low in the west as I walked out to the pre-arranged pickup point.
A half hour before sunrise on Sunday, Les and I were sneaking
through the tall grass along the Laramie River. I was hoping to find a
troublesome river bottom bull I'd heard about. We stopped on a high
ridge and glassed for a mile along the river below us. With my ten-power
binoculars, Les spotted a few buffalo grazing in a patch of thick willows
about a half-mile away. He announced that the herd bull was a real whopper.
?
I took a look and confirmed the bull was definitely a keeper. His amber-
colored hump towered above the other buffalo, and his dark mane fluttered in
the early morning breeze, The air currents were starting to
rise as the warming rays of the sun intensified. I moved parallel along the
slope in an attempt to get above the herd. I started downward quietly,
having already discovered the animals can hear quite well, I cut the distance
to 200 yards by keeping brush between myself and the herd. At 150
yards I still could not find the bull, but a sassy cow had found me. She
continued to stare in my direction, but the rest did not seem to be upset.
?
When the concerned cow went back to her breakfast, I crawled into the same
large willow flat where the buffalo were feeding. I could hear heavy branches being
broken up ahead as the animals moved about, but I could not see them,
Sneaking to the edge of the river, I saw horns coming my way. It was the herd
bull. He kept coming closer with each step — eighty yards, seventy yards,
sixty, then fifty. He looked as big as an elephant and twice as mean. I began
to contemplate what plan I should undertake if the unsuspecting beast
kept on the same path. Forty yards away from me he turned away from
the river and started through a narrow belt of willows that would allow him
to cross into the open grassland on the other side.
?
I crawled on my hands and knees as fast as I could to get to the other side
for a shot. As I looked up over the tall grass, he was standing just inside the
willows. After some hesitation, he walked out looking downriver. I
followed his slow walk with the tip of my drawn 100-grain arrow. I released
the arrow just as the bull turned his head my way. SMACK! The big bull
immediately crashed to the ground. Buffalo cows were running in every
direction. One came by me at no farther than fifteen feet, breaking limbs
with every jump.
?
I stood up and walked over to the immobilized animal. I couldn't believe
that I had knocked a buffalo right off its feet. It didn't take long to see what
had happened. In the excitement of the moment my big arrow was sent a
little high. The shaft had penetrated the lower hump, sliced through the
top part of the chest and entered the spinal column where it severed the
spinal cord.
?
Les came running from his vantage point on the ridge. It seems he had
been taking photos of some of the action with a telephoto lens. Les noted
that George and his friends had also been watching with spotting scopes,
and their mouths had dropped open when they saw the buffalo go down
immediately. George later said he would have to eat crow over his
comment that it couldn't be done. I learned later that a few dollars
had parted company from those who had doubts about the effectiveness of
the bow. l'm certain that several people have a new respect for bow-
hunting as a result of what they saw.
?
The foreman wanted to keep the arrow I used and probably will tell the
story often to local cronies about how the guy knocked the big buffalo down
with one shaft. The skinning and field dressing chore required four hours with four
people helping. The head alone was all one person could lift. When we
removed the heart, it looked like a volleyball and weighed just under ten
pounds. We fleshed out the skull and I put a tape on the horns. I could see
they would go over one hundred Pope and Young scoring points. The
minimum has been set at eighty. George said he thought the bull on the
hoof probably weighed at least a ton.
?
By early evening we had the buffalo meat, hide and skull in Les's sagging
pickup and were heading south for Colorado. Back home I had to recap the hunt
in my own mind to see if the buffalo should qualify for entry in the Pope
and Young Club records. The considerations in this case were: fair chase
conditions, a true hunt and hunting a wild big-game animal. I was certain
that this buffalo was no more restricted than others which are hunted in the
United States. Bison today are owned either by the Federal government,
State governments, private individuals, or corporations.
?
?
Rifle-hunting records have allowed entries to be nsted from controlled
state herds, such as the Raymond Ranch in Arizona. The hunters are
aided to a great extent on these hunts. Only the Canada and Alaska hunts, as
far as I could tell, are without any sort of containment. I believe the best
policy for the Pope and Young Club to follow on buffalo is not to accept the
entries automatically, but to ask for a detailed account of the hunt along
with the fair chase information.
?
As for my own bison, I decided not to enter it. This critter was determined
by those present to be on property which is deeded and not one of the
fence-busters who was outside when collected. Somehow I didn't feel right
about the proximity to civilization while hunting, although I realize how
difficult it is to get away, even in vast Wyoming. During the hunt I heard a
car honk on a distant highway, and it snapped me back to the realization
that this kind of hunting just ain't like it used to be and will never be that
way again.
?
All of this does not diminish the excitement of the hunt or the quality
of the specimen which now hangs in my trophy room. `
The meat proved to be of unusually good quality and to say we had a lot
of it is a vast understatement. Buffalo meat has an excellent flavor and
contains little fat.
?
This is the best recipe for buffalo jerky that I've been able to find. Try
making it from the lean cuts of meat including flank, brisket or round steak.
Partially freezing the meat before cutting makes it easier to slice evenly.
Cut with the grain of the meat if you like a chewy jerky; cut across the grain
for a more tender, brittle product. This recipe makes an amount of meat
you can dry in one oven.
?
1 1/2 to 2 pounds lean, boneless meat
1/4 cup soy sauce
1 tablespoon Worcestershire sauce
1/4 teaspoon each pepper and garlic
powder
1/2 teaspoon liquid smoke
Trim and discard all fat from meat. Cut into thin slices (l/8 to 1/4-inch
thick). Combine all the ingredients except meat. Stir. Add meat. Cover and put in
refrigerator overnight. Pat dry with paper towels and place in
oven on oven racks. Do not overlap pieces of meat. Set oven to lowest
heat (150 to 200 degrees). Leave meat in oven for five to seven hours until
it is brown, dry and hard. Cool. Keep in plastic bags in
refrigerator or in a cool room. Keeps
indefinitely.